Thursday, October 13, 2011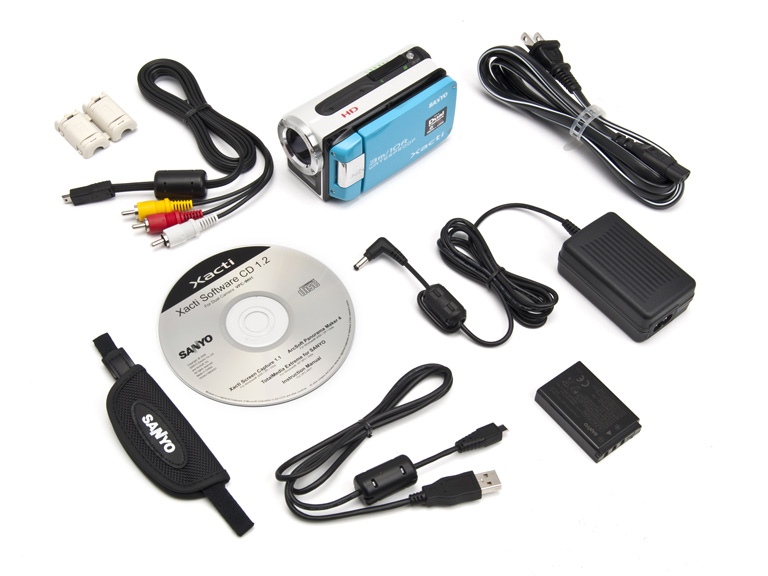 Catch A Weave
Once the world sees this video, they'll know how hard I worked for that degree in Underwater Basket-Weaving.
I, for one, am sick and tired of people dismissing my major – nay, my calling – as some kind of joke. They'll be laughing out the other side of their rattan plaits when they see this 720p video of my gruelling thesis project.
You think it's easy to execute a tight birchbark-coiled doubleweave conjoined tapered cylinder through a scuba mask? Let the waterproof Sanyo Xacti disabuse you of that notion. Its 30x optical zoom captures every warp, every weft, every wave. And maybe the world will finally respect my expertise and stop treating me like some lowly Media Communications major.
Authorized for SquareTrade Extended Warranty
Warranty: 1 Year Sanyo
Condition: New
Features:
Gives you the freedom to shoot the action in any weather and in any season, whether it's a winter sport, a marine sport, or just a rainy day
Records high-definition 720p video in a waterproof body
Advanced compression technology of

MPEG

-4

AVC

/H.264, a video format that's easy to handle on your PC and handy for web applications
Standalone shutter buttons let you start shooting a video or a photo with a single thumb press
Keeping your finger down on the Photo button causes the camera to continuously load images. After capturing the image you want, remove your finger and the just-loaded data is recorded onto an SD card

IPX8

certification (which requires the device to operate when fully submersed in water) based on

JIS C 0920

waterproofing guidelines
Additional Photos:
Specifications:
Effective pixel count/Camera element:
Photos: Approx. 1.10-Megapixels

Videos: HD: Approx. 0.97-Megapixels

SD: Approx. 1.10-Megapixels

Camera Element:
1/6 inch CMOS sensor, Approx. 1.10-Megapixels (total)
Recording Media:
SD Memory Card, SDHC Memory Card (up to 32GB)

Internal memory: Approx. 43 mb

Recording File Formats:
Photos: JPEG (DCF, DPOF, Exif Ver2.2)

Videos: ISO standard MPEG-4 AVC/H.264 (.MP4)

Audio: 48kHZ sampling, 16bit, 2ch, AAC

Lens:
30x optical zoom lens; Aperture: F=1.8(W) – 4.3(T)

Focus distance: f=2.5 to 75.0mm;

Galvanometer method structure, Auto focus: 7 groups, 10 elements (2 aspheric elements, 3 aspheric surfaces), Built-in neutral density filter

Photos: f=43-1290mm(=35mm) Optical 30x zoom

Videos: f=43-1290mm(=35mm) Optical 30x zoom

Photo range:
Standard: 50cm to infinity (wide), 1.0m to infinity (tele)

Super macro: 1cm – 1m (wide)

Digital zoom:
Shooting: 50x max., Playback 25x max. (2M mode, depending on the resolution)
Low light sensitivity (video):
Approx. 11 lux (Auto mode, 1/30 sec.)

Approx. 3 lux (High-sensitivity/ Lamp mode, 1/15 sec.)

Stills Sensitivity:
Auto (ISO 50 – 200), Manual (ISO 50/100/200/400/800/1600, Switching system)
Digital Image Stabilizer:
Photos: Digital Image Stabilizer (electronic)       Videos: Digital Image Stabilizer (electronic)
Audio:
Microphone: Built-in stereo, Speaker: Built-in monaural (L+Rch mixed output)
LCD monitor:
2.5 inch, Low-temperature polysilicon TFT color LCD display, Approx. 150,000 pixels (7-level brightness, 285 degrees rotation)
Interface:
AV output Video: HDMI/Composite video, NTSC/PAL

USB 2.0 (high-speed mode compatible)

Power Source:
Lithium-ion battery x 1 (DB-L50 included: 1900mAh)
Power Consumption:
When using battery: 3.0W (when filming videos)
Approx. Battery-Use Time:
Photos: Approx. 450shots (CIPA standard), Continuous video filming: Approx. 200min.

Continuous playback: Approx. 570 min

Dimensions/Volume:
58.7 (W) x 62.8 (H) x 112.4 (D)mm (maximum dimension, excluding protruding parts),

Volume: Approx. 327cc

Weight:
Approx. 311g (main unit only), Approx. 354g (including battery, Approx. 41 g, and SD card, Approx. 2 g)
In the box:
Sanyo Xacti

VPC

-WH1 Waterproof

HD

Dual Camera (Choose: Blue or Yellow)
1900 mAh Rechargeable Battery Pack

AC

Adapter

USB

Cable

AV

Cable
Grip Belt
CD-ROM Software
Instruction Manual
SOLD OUT